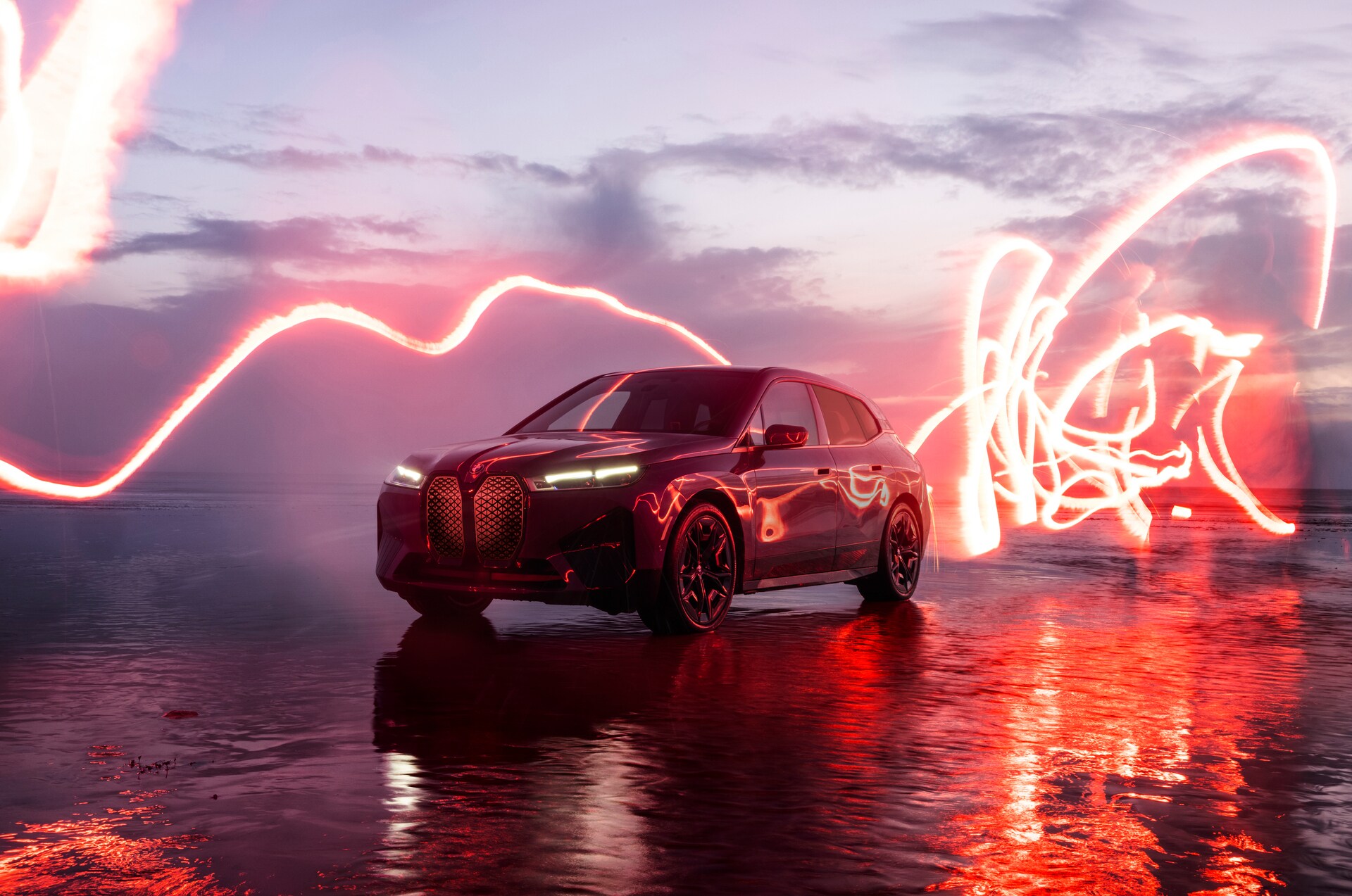 Fast-forward design. Trailblazing power. And only from BMW. 
Discover the fully electric, fully connected,
First-Ever BMW iX Sports Activity Vehicle®.  

This all-electric SAV offers competitive range and battery capacity of up to 113 kWh. Dual electric motors deliver breathtaking power and efficiency - combined with the stability of electric all-wheel drive. 
0-60 MPH*

<4.6 sec

Range

up to 324 mi

 Maximum Horsepower

516 hp

 10 min of DC Fast Charging*

up to 90 mi
  
 Extroverted introduction.

New narrow headlights frame the intelligent kidney grille, which reinterprets classic BMW design and houses sensors, cameras, and radar.
 Shaping a vision.

The elegant silhouette incorporates aerodynamic wheels on a long wheelbase, and extends through four frameless doors with smooth, seamless door handles.

  
  
 Expressive rear design.

Progressive design meets performance focus in the drag-reducing rear diffuser, improving aerodynamics and range. Slender taillights complete the visual effect.
 INTELLIGENT SYSTEMS.

The Intelligent Personal Assistant improves every interaction with your vehicle. Your digital companion responds to natural dialogue, gauges reactions based on context, and can even identify individuals in different areas of the vehicle

   
 
 HARMONIOUS TECHNOLOGY.

Seamlessly switch between the latest iDrive 8.0 Operating System, Apple CarPlay™, or Android Auto™. Create your own Sport, Efficient, or Personal driving environments with My Modes. Explore new roads with the Head-up Display, enhanced with augmented reality navigation. And, with Remote Software Upgrade, your system will always be up to date.
 SAY HELLO TO SHY TECH.

A hidden world of interaction and functionality is at your fingertips in the First-Ever BMW iX. Shy Tech features are subtle, yet highly engaging - like the sound system cloaked by acoustic fabric, radiant heat in the dash and door panels, and haptic controls concealed by open-pore wood trim.

  
With a range of up to 324 miles, the new BMW iX is ready to take you farther afield.
---
BMW Charging - a new, comprehensive charging program for BMW electrified vehicles - 
offers tailored solutions for both home and public charging.
  
 ALL YOU NEED & INCLUDED WITH YOUR BMW i: THE FLEXIBLE FAST CHARGER 

Every fully electric BMW comes equipped with a Flexible Fast Charger. This portable device, compatible with any 120V or 240V outlet, delivers optimized charging wherever you go.

Charge from 0-100% in under 12 hours at a 240V outlet. *1

For professional installation of a 240V outlet you may use the Qmerit Charge@Home Premium Installation Service.
 OPTIONAL: THE BMW WALLBOX FOR CONVENIENT CHARGING AT HOME 

The optional BMW Wallbox is a Level 2 (240V) charger that installs in your garage or outdoors.  Charge from 0-100% in under 12 hours.*2

The BMW Wallbox (Gen 3) will be available by the second half of 2022 from your BMW Center. Please note that the included Flexible Fast Charger charges your BMW i vehicle at the same speed as the wallbox.

For professional installation of the Wallbox you may use the Qmerit Charge@Home Premium Installation Service.

  
THE BENEFITS OF ELECTRIC.
Owning the First-Ever BMW iX may qualify you for a federal tax credit of up to $7,500, in addition to other state incentives such as rebates, tax credits, and grants.**
You could also save time with single-occupancy HOV lane access in select states, receive preferential parking for charging, and reduce fuel expenses.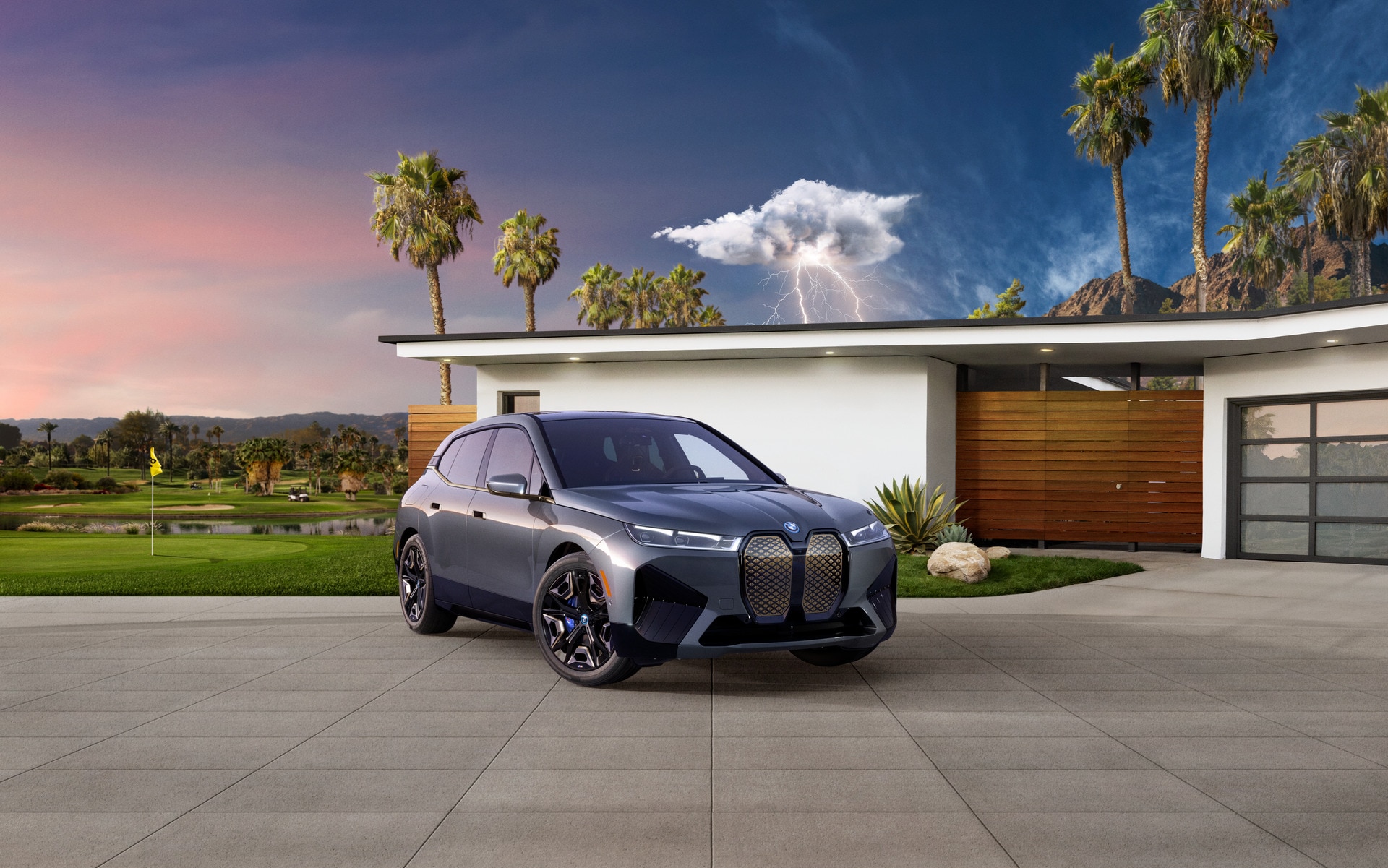 From sustainable sources.
This electric SAV is an environmentally conscious vehicle from production to performance. Built at BMW's Dingolfing plant using 100% renewable energy, the First-Ever BMW iX uses sustainable materials - like olive leaf tanned leather, floor mats made from recycled post-consumer plastic, and Forest Stewardship Council (FSC) certified sustainable wood - to minimize environmental impact before it ever hits the road.
Request More Information
* Indicates a required field
*0-60 MPH - BMW AG preliminary test results. Actual acceleration results may vary, depending on specification of vehicle; road and environmental conditions; testing procedures and driving style. These results should be used for comparison only and verification should not be attempted on public roads. BMW urges you to obey all posted speed laws and always wear safety belts. 
Range - Estimated ranges are independently verified by the EPA, and are attainable when fully charged under ideal driving conditions. Actual range will vary depending on multiple factors, including but not limited to: vehicle model, tire and wheel selection, driving style, traffic conditions, and outside temperatures.
10 min of DC fast Charging - Preliminary range estimate, available when charged with DC Fast Chargers at up to 200kW. 
*1 -The maximum power of 9.6kW is only attainable when equipped with the correct adapter (NEMA 14-50 or NEMA 6-50) on a 240V outlet. In typical situations where the battery is not at 0% charge when charging starts, overnight charging will easily result in a full charge.
*2 - The iX maximum AC charging rate of 11 kW results in a 0-100% charge in less than 11 hours. With the BMW Wallbox (9.6 kW), a full charge can be completed in under 12 hours. In typical situations where the battery is not at 0% charge when charging starts, overnight charging will easily result in a full charge.
*3 - Offer provided directly by Electrify America. 2 years of complimentary 30-minute charging sessions begin on day of vehicle purchase. Eligible vehicles are fully-electric 2022 BMW i models. Offer non-transferable.  Not available for commercial use, such as ridesharing.  Requires Electrify America mobile app, account, enrollment in 'BMW 30-minute Charging', acceptance of Plan Disclosure, and $10 deposit to pre-fund Idle Fees and charging after 30 minutes. User is responsible for Idle Fees, which apply beginning 10 minutes after charge session stops or vehicle reaches full charge.  After the initial 30 minutes of each applicable session, charging continues uninterrupted at prevailing Electrify America Pass pricing. There is a 60-minute wait-period between charging sessions in which you receive the complimentary 30 minutes of charging under this promotion. Charging sessions for non-commercial and reasonable personal use.
**The 2022 BMW iX has not yet been certified as credit eligible by the IRS. Additional state incentives may also be available. Tax credits may be complex and are subject to change without notice. While BMW of North America, LLC does its best to keep this information up-to-date, it cannot guarantee the current accuracy of your eligibility. We recommend consulting a tax professional to validate credit availability and eligibility.